Do you ever wonder, if your horse or animal could speak, what they would say to you?
Would you love some insight into why they're behaving in a certain way; or confirmation on a gut feeling that you have, or answers to your questions?
Is there a horse or animal that you lost that you'd love to reconnect with? To hear their messages for you and to ask the questions you're left with?
You're in the right place.
Equisentient Coaching Cards
Now available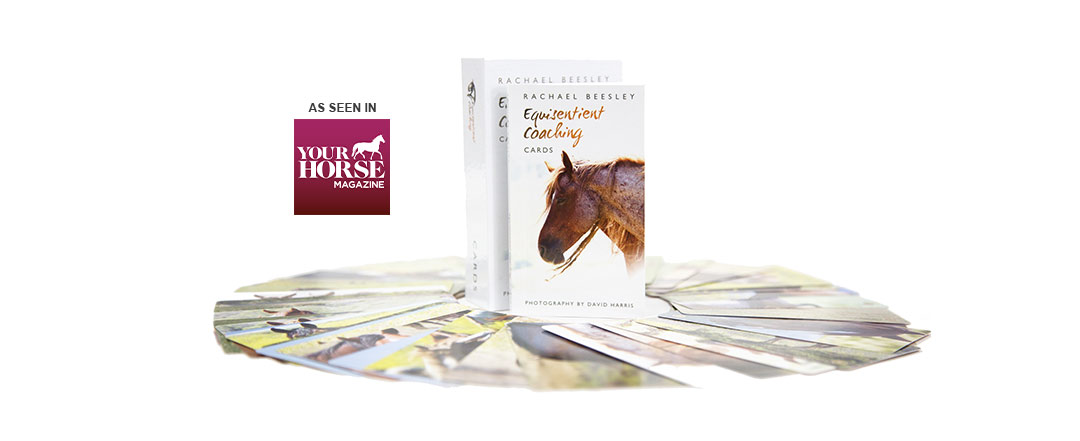 Why Rachael Beesley & Animal Communication?
My name is Rachael Beesley and I founded Equisentient Coaching to combine my love of horses, my coaching experience and the innate ability I have to connect with our equine friends with fascinating accuracy. As an animal intuitive I can also connect with other animals as well as those that have passed sharing their messages with you.
I love honouring your horse, or pony by being their "voice" providing accurate remote readings that deepen your understanding of each other and often yourself.  Working remotely, I gain rapport and a unique connection with your horse almost instantaneously from their photograph.  You can expect insights and feedback from them alongside a sensitive, empowering coaching session all in one; taking your partnership to a whole new level of connected understanding and respect for each other.  You will leave our call truly understanding their point of view, with clarity about the here and now as well as their guidance on how to navigate the next few steps forward.
I became an Accredited Coach during the decade I spent in the corporate world as a HR Generalist and Consultant before realigning my energies in 2010 to co-create transformational retreats and work with private coaching clients.  My coaching skills come to the fore as a horse will often guide their person with insights, observations and suggestions. They can cover a lot of ground touching on all facets of your life.  As such the readings can be poignant and personal. I ensure that all the information given is shared constructively with care.  I create that essential space for you to make sense of all of the information covered ending our call in a good place – typically with a "lovely feel good factor" which stays with you according to my clients.
It's hard to put what I do into words as the benefits and insights are as diverse as the horses and humans I read for.  Why not click here or on the testimonials tab above to hear first hand what they have to say.
To book a remote reading with me simply click here.
I look forward to connecting with you both.
Warmly
Rachael Beesley
Rachael is definitely part of my 'team' now, as important as finding a supportive instructor or talented bodyworker
I can't thank you enough for our session, it helped me find peace in the loss of my horse. Thank you from the bottom of my heart.
I felt like she put bits of missing puzzle pieces together for me to better understand my dog's anxiety…
Join the Equisentient Coaching community